Mike worked with the October Gallery on Inside the Cordillera, an exhibition of Huichol and Native American art from Mexico and the Southwest USA, inspired by his book Mescaline. (London, 28 November 2019 – February 1, 2020)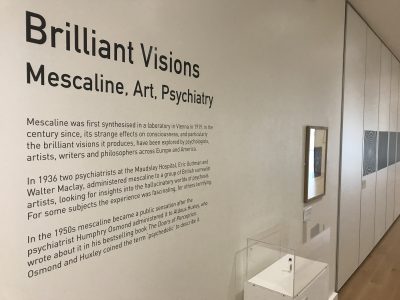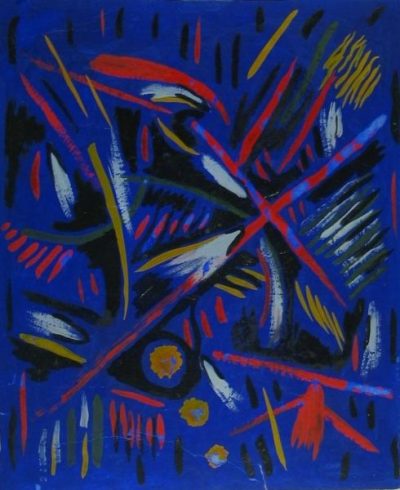 Together with Kate Tiernan and the Bethlem Museum of the Mind, Mike curated Brilliant Visions: mescaline, art, psychiatry (1 May – 31 August 2019)
The exhibition accompanied Mike's book Mescaline: a global history of the first psychedelic
100 years after mescaline was first synthesised in 1919, Brilliant Visions explored the pioneering era of psychedelic research. It featured the experiments conducted in 1936 by two psychiatrists at the Mausdley Hospital, Eric Guttman and Walter Maclay, who administered mescaline to a group of British Surrealist artists and asked them to draw and paint their hallucinations.
Exhibition text and image sheet on H-Madness; preview feature by Museum Crush with more images and an interview with Mike; reviews in Hyperallergic and The Psychologist.
Mike was co-curator, with Bárbara Rodriguez Muñoz, of Wellcome Collection's Bedlam: the asylum and beyond (Sept 2016 – Jan 2017).
He is the author of the accompanying book, This Way Madness Lies, published by Thames & Hudson.
Features, reviews, image galleries and film in the Times, Telegraph, Guardian, Sun, Economist, New York Times, London Review of Books, Science, Lancet, British Medical Journal, Lancet Psychiatry, Contemporary Psychotherapy, Architectural Review, Sydney Morning Herald, Quartz, Apollo, Hyperallergic, Londonist, Culture Whisper, Frieze, The Quack Doctor and Culture24.
There's an article by Mike in the Guardian and he appears in the film Bedlam: Nightmares and Utopias.
As a trustee of the Bethlem Art and History Collections Trust, Mike has been involved in developing and designing the Museum of the Mind at the Royal Bethlem Hospital in Beckenham. The new museum draws on Bethlem's unique collection of documents, objects and art by patients including Richard Dadd, Louis Wain and Jonathan Martin. The building also houses the Bethlem gallery of contemporary art, and the archives of the hospital's 700-year history. Coverage from The Guardian, ArtInfo, The Londonist and BBC TV, and a film of the opening featuring Grayson Perry.
Shortlisted for Museum of the Year 2016
Mike is the author of Mindcraft, a digital essay-cum-gallery produced by Wellcome Collection, exploring early scientific investigations into the unconscious from Mesmer's salons to Freud's couch.
Mike was the curatorial consultant to Kew Gardens on their Intoxication Season (Sept-Oct 2014). Coverage from the Daily Telegraph, Guardian, New Scientist and Mail on Sunday.
Mike was the external curator on the Wellcome Collection's High Society exhibition (Nov 2010-Feb 2011), and wrote the accompanying book. Coverage from BBC TV news, Independent, Financial Times, Guardian, Lancet, Bloomberg News and Wall Street Journal.